Special devices may be implanted in the eyes to change their focusing ability. Implants are made from types of plastic similar to those used for contact lenses and cataract treatment.

Phakic IOLS
Phakic intraocular lenses (PIOLS) are artificial lenses that are placed inside the eye. Some types are designed to go in front of the iris, some behind. The natural lens is not removed. This procedure may be combined with excimer laser surgery to reshape the cornea. PIOLs may be used to treat severe myopia or hyperopia.
A small hole is made in the iris to prevent fluid build up in the eye. An incision is then made at the edge of the cornea. The lens is inserted either in front of or behind the iris.
PIOLs are made of a safe plastic material.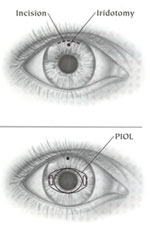 What to EXPECT
Before treatment, you'll be given local anesthesia. You may also be given medication to help you relax. A peripheral iridotomy (drainage hole) is made in the iris. An incision is then made in the cornea. The lens is inserted through the incision. After treatment, your eye may be bandaged. Your vision should start to improve the next day. It should become stable in 1 to 3 weeks.

What you should CONSIDER
Pros
• Implant can be removed or replaced if the desired result is not achieved
• Can correct some extreme refractive problems
• No loss of accommodation, since natural lens remains in place
• No thinning of the cornea
• Reduced risk of halos, glare, or starbursts

Cons
• Long- term effects are still unknown
• May increase risk of developing cataracts
• If infection or inflammation occurs, serious vision problems may result

Risk of:
• Vision loss
• Undercorrection or overcorrection
• Loss of best corrected vision


Intrastromal Corneal Ring Segments (Intacs)
Two flexible half-rings are inserted in the cornea. This changes the shape of the cornea. The ring segments are nearly invisible and cannot be felt, this procedure may be used to treat mild to moderate myopia.
The ring segments are placed in two tunnels, between the layers of corneal tissue.
What you should Consider

Pros
• No tissue is removed from the cornea
• Implant can be removed or replaced if the desired result is not achieved
• No scarring of central cornea
• May be used along with excimer laser procedures to refine correction

Cons
Risk of:
• Glare, halos, and other night vision problems
• Postoperactive infection, requiring removal of the implant
• Anterior chamber perforation
• Blurred or double vision
• Undercorrection or overcorrection
• Loss of best corrected vision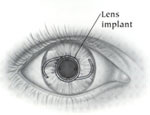 Clear Lens Extraction
This procedure is similar to cataract surgery. A very small incision is made in the cornea. The existing natural lens is then removed and replaced with a plastic lens. This procedure may be used to treat very severe hyperopia or myopia.
The natural lens is removed and replaced through a small incision in the cornea.

What you should CONSIDER

Pros
• Can correct some extremely high refractive problems
• Fast recovery

Cons
• Loss of accommodation due to removal of natural lens
• If infection or inflammation occurs, serious vision problems may result

Risk of:
• Retinal detachment for those with high myopia
• Vision loss
• Undercorrection or overcorrection
• Loss of best corrected vision